Acrobatic Conundrum Workshops!
Project In Motion is delighted to sponsor Seattle's premier circus group The Acrobatic Conundrum. Please go to the Rio Grande Theater website for tickets to this amazing show October 20th at 8PM! We are also lucky enough to offer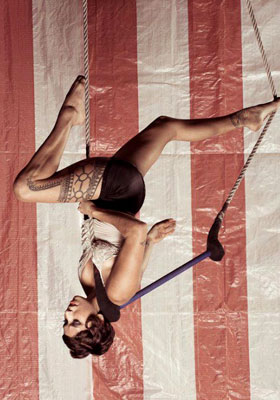 workshops with the Company! Private lessons are also available October 17-21. Space is limited.
Acrobatic Conundrum
bios below »
11-4:30 Sign up for one or all!
Two class discount ($30)
Bring a friend discount ($30)
Cyr Wheel with Ty
11:00-12:30
(Bring your own wheel or borrow ours)
This workshop requires five registered by Oct.20
Floor Acro with Melissa and Cooper
12:00-1:30
Partnering and more! Bring your friends!
Half off the second person!
This workshop requires seven full registrations by Oct.20
(half off partners do not count)
Single Point Trapeze with Xochitl
1:30-3:00
Dance on the floor. Swing through the air!
This workshop requires five registrations by Oct. 20.
Rope (Chorde Lisse) with Terry
3:00-4:30
Terry Crane is one of the foremost experts on rope in the international circus arts circuit, and he's also a lot of fun! Climb like a pirate!
Prerequisites:
Acro participants must be able to do a handstand against a wall and be capable of a "hollow body rock" which demonstrates strong core muscles.
Single Point participants must be able to invert in the air and be comfortable hanging from your knees.
Rope participants must be able to invert in the air more than once and accomplish a "hipkey" in the air.
Questions: (575)-208-4413 or pimdance@gmail.com

Fall Schedule
Sunday
Kids Company (invitation only)
1-3pm
Adult Company (audition only)
3-5pm
Monday
Teens (13-16)
5-6 pm
Beginning Adults
6-7
Intermediate Adults
Every other week.
7-8:30pm
No class Sept 25, Oct 30, Thanksgiving recess Nov 20-25, Dec 11, and December break: Dec.18 till January classes. Please check our Facebook page for updates or email pimdance@gmail.com
Tuesday
Beginning Kids
6-7pm
Wednesday
Open Climb
5:30-7pm
Thursday
Intermediate Kids
6-7pm
Saturday
Kids Tutorial
(please contact pimdance@gmail.com to schedule)
All classes listed require a card punch or a drop in rate.
Punch Cards available:
$70 for 8 classes

$35 for 4 classes

$15 Single class drop-in

$60 Exercise Class or Ring Jam Card

Punch Cards from previous sessions will be honored til the end of May 2017.
Class Descriptions
Ring Jam: Try your hands on the traveling rings, juggling, uni-cycling, stilts or slack lining! This class contains no curriculum or teacher, so participants are encouraged to bring a friend! There is however, a supervisor who is largely familiar with all the apparatuses and a great resource to help you discover your inner circus artist!
Open Climb: This class is designed for students to come practice the new and different climbs learned in one of our aerial classes. This class contains no curriculum, however one of PIM's company members will be present to supervise and help assess your level. Participants are encouraged to bring another aerial friend to help spot and work together!
Acrobatic Conundrum bios
Terry Crane, Artistic Director and Co-founder
Terry surrendered to restless urges that led him to walk calmly away with the circus at the tender age of 20. Since then, his search for movement and performance mentoring has generated a zigzag constellation of off-the-beaten path destinations, taking him to the San Francisco Circus Center, Montreal's National Circus School (of Cirque du Soleil fame), and the Beijing International Acrobatics School. He has now performed in countless countries, on 3 continents, with various groups such as Circus Syzygy, Circus Monti and Teatro ZinZanni. Terry is a longtime practitioner of capoeira, contact improvisation, hip-hop dance, physical theater, and tree climbing. He infuses his work with these influences as well as his own fiercely unique style.
Susie Williams, Managing Director
Susie is in love with performing arts and is thrilled to have been a performer, director, teacher and producer in both circus and traditional theater. She is a graduate of Northwestern University's theater program and was a Fellow in the BAM (Brooklyn Academy of Music) Professional Development Program. Producing credits include: Bright Ideas' Aerial Salons, migrations, Landscrapes and Discord and the award winning Roundhaus video Hammertime. As a performer, Susie appeared with the Poemas, the High Flying Pages, Lisa's Bright Ideas, Built 4 Collapse and in Kristin Geneve Young's migrations. Susie taught aerial arts at Aerial Arts NYC, STREB, TSNY, and as an adjunct professor at Pace University. With an understanding that art is a vital part of society, she strives to produce work that represents the typically underrepresented individuals and art forms.
Annika Frodi-Lundgren, Artist
Annika Frodi-Lundgren, dual citizen of the U.S. and Sweden, graduated from the professional circus training program at NECCA in 2016 where her main focus was aerial rope. At NECCA she trained in a multitude of circus disciplines ranging from partner acrobatics, hand-balancing to trapeze, lyra, and Chinese pole. She has performed in Sweden, Norway, France and the United States, and taught circus to people of ages 3 to 68. She speaks English, Swedish, French and is working on Portuguese and Spanish. She worked as a physical therapist, and travelled the world as a rock climber before entering into the circus world where she now thrives. 
Melissa K. Knowles, Artist
Melissa Knowles is "professionally tiny" and can often be found hiding in your locker or suitcase or being thrown high into the air by pretty much anyone. She has toured across the United States, Canada, Europe, and Australia performing with C!RCA, Nimble Arts, Aerial Angels, Infinity Circus Productions, Boston Circus Guild, and Wunderle's Big Top Adventures. Melissa has received degrees in Art and Psychology from the University of Tennessee in 2004, completed the Professional Training Program at New England Center for Circus Arts (NECCA) in Brattleboro, VT in 2010, attended several rigging, fabric, and trapeze teacher training workshops, and is certified in Functional Range Conditioning. She focuses her teaching on active flexibility/mobility, hand-balancing, and partner acrobatics.
"Art and expression allow us to find new, beautiful, and often vulnerable ways to grow and create positive change in the world. I think circus creates this through an emphasis on community verses competition. I have found teaching and performing circus to be more empowering than traditional sports or art and I have a passion for teaching students how to use their bodies and express themselves in new ways."
Her favorite thing about teaching and performing circus is the way it empowers people to do things they always thought impossible, but had just never tried. She also likes really dark chocolate.
Xochitl Sosa, Artist
Xochitl Sosa is an Oakland based aerial performer and instructor. She is a graduate of the New England Center for Circus Arts' (NECCA) Pro-Track Program, with a concentration in dance and duo trapeze. In addition to NECCA, she has trained in Montreal with renowned coaches from Cirque du Soleil and the National Circus School. She performs her unique style of dance trapeze around the US and Mexico in festivals, cabarets, and most recently on a national tour with contemporary circus company, Acrobatic Conundrum. Xochitl has contributed to the evolution of American circus by helping to establish Sky Candy, an aerial school in Austin, Texas. She is an enthusiastic teacher; selected teaching experiences include: Kinetic Arts (Oakland, CA); San Francisco Circus Center (San Francisco, CA); the North American Circus Educators Conference; and Camp Winnarainbow, where she first fell in love with
Cooper Stanton, Artist
Cooper Stanton is a multi-disciplinary artist whose greatest joys are expressing himself through Dance, Music, Theatre, and Acrobatics. He grew up in Massachusetts with his four siblings, training and performing throughout New England. He's a 2014 graduate of The National Circus School of Montreal, where he specialized in Swinging Trapeze and Aerial Tissu. Cooper has performed in artistic creations and theatrical productions across the U.S. and abroad. He has been working as an artistic consultant on two ongoing projects; Particle # B by Kerttu Pussinen, and This Is Not A Testby Aaron Marquise. Most recently, he appeared in the North Carolina Theatre's production of Beauty and the Beast. 
Ty Vennewitz, Artist
Ty, short for Tyrannosaurus, tall by any other measure grew up in the Pacific Northwest. As a child he rode anything with wheels and occupied his hands with juggling props. As an adult he rides a giant wheel, spinning and cartwheeling in a metal ring (Cyr wheel), and occupies his hands with juggling props.  In the interim he graduated from Western Washington University with a BA in Dance, performed in the Portland Opera, A-Wol Dance Collective and a dental commercial as a ballet-dancing-molar. Ty's obsession with circus lured him across the continent to the National Circus School (ENC) in Montreal, where he donned the world's smallest mask, a red nose, and studied clowning. . . seriously. He has performed for Cirque du Soleil, Cirque Éloize, Creativiva and numerous others. He is currently a member of the Acrobatic Conundrum, directing and acting in new work for Levity Aerial Troupe, teaching classes at Le Cirque Centre and performing his solo varieTy show Cirque Love Love. When he's not juggling engagements you can find him wheeling in the streets, a boyish grin on his face.  
 
Frequent and Past Collaborators
Carey Cramer, Lauren Joy Herley, Erica Rubinstein, Laura Miller, Jaron Hollander, Nicki Miller, Scotty Dont, Jacki Ward Kehrwald, Nicolo Kehrwald, Anna Thomas-Henry, Alex Allan, Wendy Allen, Una Bennett, Zora Blade, Tanya Brno, Marta Brown, Arne Bystrom, Emma Curtiss, Sol Marie Doran, Joselynn Engstrom, Tyler Ferraro, Tom Hanna, Nick Harden, Jonah Katz, Faeble Kievman, Kari Jay Hunter, Leah Jones, Nick Lowery, Poki McCorkle, Sommer Panage, Laurie Rogers, Elizabeth Rose, Jonathan Rose, Ellie Rossi, Noa Schnitzer, Will Smith, Justin Therrien, Maddie Ward, Elizabeth Klob, KT Niehoff, The Tres Pesos, Nicole Faubert, Janet McAlpin, Katheryn Reed, Krin Haglund

All Classes at
430 N.Compress,
Las Cruces, New Mexico
For more information
please contact us:
pimdance@gmail.com
575-208-4413
Prices are minimum suggested donation